John Nieto Contemporary Western Art
John Nieto is widely regarded as one of America's most accomplished, dynamic and exciting contemporary artists. Born in Denver in 1936, Nieto traces his ancestry, a mix of Native American and Spanish, to the seventeenth century in New Mexico. John made the decision very early in life to become an artist, claiming he never thought of doing anything else for a living. After graduating from Southern Methodist University with a B.A. degree in Fine Art in 1959, Nieto went on a "vision quest" to Paris to seek direction for his art. While in Paris he became impressed with the Fauvist techniques of vivid color and bold outlines which he incorporated into his style. However he did not find his significant subject matter until he returned home to New Mexico. During a visit to his 86 year old grandmother's, she asked him "Johnny, will you paint about my people?" Recalls Nieto, "That is when I started painting Native American themes. It was like being born again."
Nieto's precision of form combined with broad strokes and intense colors create a distinctive style that has won legions of collectors and admirers worldwide. His work was displayed in the Reagan White House and is currently hanging in the Reagan Library. John has participated by invitation in the "Salon d'Autumn" at the Grand Palais, Paris, France, and in 1989 he was featured at a one-man show at the Axis Gallery in Tokyo, Japan.
"I'm in a trance when I paint. It's like being a drummer -- you don't look at the drums, you just know intuitively where they are." John Nieto
The Plainsmen Gallery is proud to represent the original paintings, sketches and giclee prints of internationally-renowned artist John Nieto. For more information call 1-888-779-2240 or email art@plainsmen.com.
Paintings Currently Available: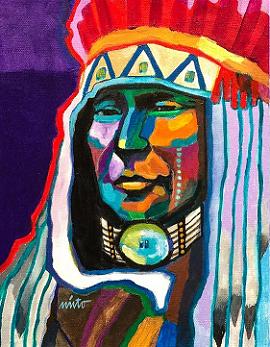 "Chief Rain in the Face" by John Nieto
Acrylic 14"x11" --- SOLD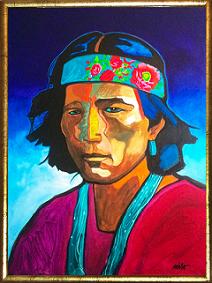 "Navajo" Acrylic by John Nieto 40x30
Call for Pricing 1-888-779-2240 or art@plainsmen.com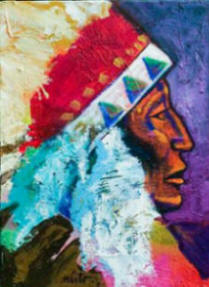 "Iron Tail" Acrylic by John Nieto
10"x8" - call for pricing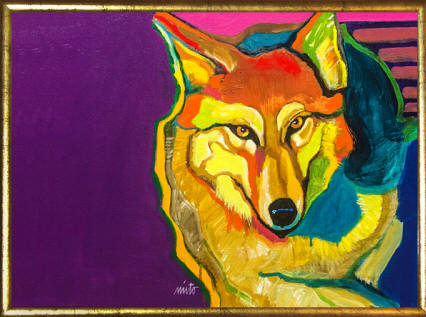 "Wolf" Acrylic by John Nieto
16"x20" - SOLD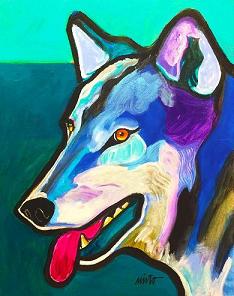 "Wolf Medicine" Acrylic by John Nieto
20"x16" - SOLD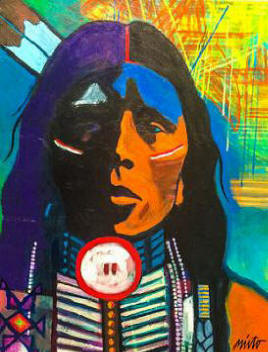 "Keeps the Mountain" Acrylic by John Nieto
20"x16" CALL FOR PRICING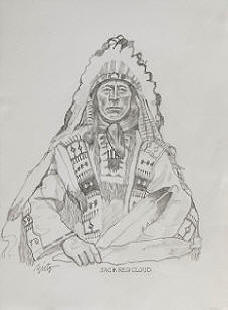 "Jack Red Cloud" Graphite by John Nieto
10"x8"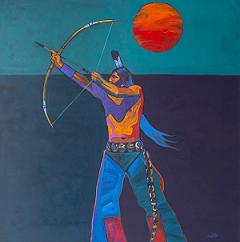 "Nocturnal Archer" Giclee Canvas by John Nieto
30"x30"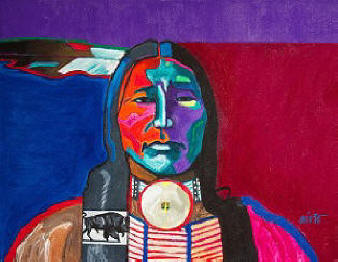 "Buffalo Culture" Acrylic by John Nieto
18"x24" SOLD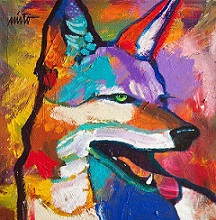 "Young Coyote" Acrylic by John Nieto
12"x12" SOLD
For more information about purchasing original artwork or giclees by John Nieto, call The Plainsmen Gallery 1-888-779-2240 or email art@plainsmen.com. Time Payments are available.