John Seerey-Lester, Wildlife Artist
World renowned wildlife artist John Seerey-Lester was born in Manchester, England where he grew up with a sketchbook in hand. John became a professional artist in 1974. It was in 1980, after his first trip to East Africa, that he began painting images of the natural world. This became a turning point in his career, and in 1982 he moved to the United States. He signed with Mill Pond Press the following year. Since then he has had 250 limited edition prints published. Many of these have sold out within days of release. Demand for his original works has become stronger each year.
John has received many awards and recognition for his outstanding achievements in the field of wildlife art. He was presented to His Royal Highness Prince Phillip and was commended for his work in conservation. He has been chosen to exhibit works in the prestigious Leigh Yawkey Woodson Museum's "Birds in Art" and "Wildlife, An Artist's View" shows each year since 1983. John is also an excellent art teacher, and his workshops have become a great success. In January 2000, he married fellow wildlife artist Suzie Zimos, and they now live in Florida.
For more information or to make a purchase please call The Plainsmen Gallery 1-888-779-2240 or email art@plainsmen.com
Paintings Available: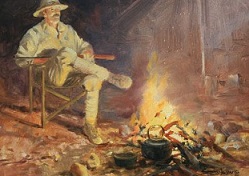 "The Sentry" Acrylic by John Seerey-Lester
9"x12" $5,400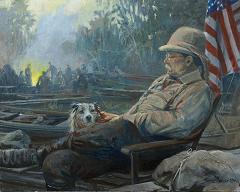 "TR and Triguero" Giclee by John Seerey-Lester
Call for pricing: 1-888-779-2240
For more information or to make a purchase please call The Plainsmen Gallery 1-888-779-2240 or email art@plainsmen.com